Words – Carole Hayman
Carole Hayman is a Writer, Producer & Presenter.
She was born in Kent, which has featured in her trilogy of novels, "The Warfleet Chronicles". Her early work was with The Bristol Old Vic, The Royal Court and Traverse Theatres, from which she went on to become a founder member and first woman director of the Joint Stock Theatre Company.
She was an Associate Director of The Royal Court Theatre, for which she directed many World Premieres. Carole writes for radio, television and film. On radio, she is well known as writer of the Radio 4 hit series "Ladies of Letters" with Prunella Scales and Patricia Routledge, which has run for twelve series on radio and three series on ITV .
Most are available as books, audio books and DVDs. Her latest novel, Legacy, an intelligent, provocative #MeToo mystery, is available on Audible.
Carole has published and broadcast many short stories and pieces of cultural journalism, including features for the Independent, the Guardian, the Express, The Sunday Times, The Mail and a regular column for The Saturday Independent, "My Lofty Life". 'Lofty Life' a short animated film based on the column, was made with an award from the UK Film Council. It has appeared in film festivals world wide and is currently available on Vimeo & YouTube.
Carole's political satire novel, Hard Choices, was published in 2003 by Aurora Metro Press and immediately short-listed for The Silver Booker prize for Wit. It was re-published in 2015 by PenSup Publishing.
Carole was an Arts & Humanities Research Council Fellow @ Kings College London, where she made a study on Women & Serial Killers. Called 'No One Escapes'  this became a highly acclaimed 4 Screen Video Installation. This, funded by Wellcome, was shown in the Brighton Festival @ Fabrica Gallery and all over the UK in high, medium and low secure units, Universities, NHS facilities, forensic and arts conferences and prisons. Carole has recently completed a factual book based on her experiences while making NOE.
The Hive is her first Opera, loosely based on the material. It was very well received at The Arcola Theatre's Grimeborn Opera Festival Summer 2016 and at Tête à Téte's Opera Festival Summer 2017. Carole has now embarked on her second – The Rotters Opera – a contemporary take based on scurrilous goings on in her home town of Deal during the late 19th century.
Carole has been a Trustee of several literary and cultural organisations in London and the Southeast. She runs regular literary workshops and salons and teaches creative writing at UAL – LCC, Leeds Becket and Northampton Universities.
Carole is a regular contributor to the BBC as a writer and presenter. For the BBC she has made many dramas and series and a number of documentaries, including 'Inside the Unit' broadcast in 2015.
She is currently making a series of podcasts about an inner city in the 80s, co-written with Sue Townsend and adapting one of her own crime novels for television.
Music – Harvey Brough
Harvey Brough is a composer and performer.
One of the UK's most accomplished and diverse musicians, he is unique in his ability to work with the finest professional musicians and complete beginners (both children and adults), often side by side. Many of his compositions bring these forces together, with remarkable results. He has been promoting Community music for many years before it became a popular movement.
Harvey sang as a chorister at Coventry Cathedral before studying at the Royal Academy of Music and Clare College, Cambridge. Since then he has worked as a freelance performer, arranger, conductor, producer and composer. Harvey and the Wallbangers had great success in the 1980s throughout Europe, recording four albums and one called Jazz on EMI, with Simon Rattle.
His compositions have been performed at the Barbican, Royal Opera House, Queen Elizabeth Hall, St John's Smith Square, Cadogan Hall, Union Chapel, Kings Place, Turner Sims Southampton, Usher Hall Edinburgh and many other major venues.
For the last five years, Harvey has been composer in residence and patron of VOX HOLLOWAY, co directing their concerts with VH's founder Justin Butcher. They present a regular series of innovative concerts, occasionally including staples of the choral repertoire, but mostly creating new and eclectic programmes.
In September 2012 Harvey was made the Turner Sims Professor of Music at the University of Southampton. He started a new university community choir USV and has performed with students and professionals in concerts and workshops at the university. This post has been made permanent and he is now also an Associate Professor teaching a module in Community Music.
Director – Paulette Randall MBE
Paulette Randall is a British theatre director
Chair of the Board of Clean Break Theatre Company in 2006–07 and former Artistic Director of the Talawa Theatre Company, Paulette Randall was the Associate Director for the opening ceremony of the London 2012 Olympics working alongside Danny Boyle.
Aged 11 she started helping out in a shop on Saturdays and she has said: "It was working in Brixton market that was my real first understanding of theatre, just the characters you met and stories you heard." She subsequently went to drama school at the age of 18, training to be an actress at the Rose Bruford College of Speech and Drama. After graduating in 1982, she and two fellow students – Bernardine Evaristo and Patricia Hilaire – set up their own company, called Theatre of Black Women, in response to the lack of roles for black actors at the time.
Randall was appointed an MBE in 2015 for services to drama, and was awarded an honorary degree from Brunel University in the same year.
In 2016 she was given a lifetime achievement award for her work as a director and playwright in film and TV at the inaugural WOW Creative Industries Awards, presented by the Women of the World Festival at the Southbank Centre.
Paulette will be directing Roy Williams' new play The Fellowship at the Hampstead Theatre.
She is currently directing on BBC's WATERLOO ROAD.
Paulette will also be directing the short film TELL ME YOU LOVE ME.
She has also directed TIN STAR – LIVERPOOL Episode 5 for SKY, HOLBY CITY Season 22 Episodes 29 & 30 for the BBC and SILENT WITNESS Series 24 Episodes 7 & 8 for the BBC. She is currently working on HOLLYOAKS for Channel 4 and Lime Pictures.
Designer – Ellen Cairns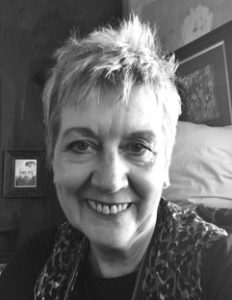 Ellen has been a stage and costume designer for more years than she cares to remember!
Originally from Glasgow, she trained at Glasgow School of Art and became a costume assistant at The Citizens Theatre and then, under the auspices of the designer Philip Prowse, completed a post graduate degree at The Slade in London. She won an Arts Council Bursary prize which kick started her career as a theatre designer.
After seasons as resident designer at Contact and the Royal Exchange in Manchester, Liverpool Playhouse and The Half Moon in London she became freelance and has worked extensively in both this country and abroad. From "two planks and a passion" productions above pubs like "Trafford Tanzi", site specific work including Pinter's "New World Order" in a prison or Joe Orton's "Erpingham Camp" on Brighton Pier to full scale opera including "Carmen", "Macbeth" and "L'Elisir d'Amore", she is passionate about live performance.
Recent productions have been "Educating Rita" starring Lenny Henry and Lashana Lynch at Chichester, costumes for "The Hunchback of Notre Dame" in Finland, a full orchestra and chorus production of "West Side Story" for Estonian National Opera and a "doorstep pantomime" production of "Jack and the Beanstalk" in Kent during lockdown!
Associate Producer – Helene Mathieson
Helene Mathiesen is a soprano and early-career theatre producer
Focused on producing new, boundary-pushing works in opera and musical theatre, in 2020, Helene formed Medusa Collective, an opera collective creating feminist works that challenge the pre-conceived ideas of opera. Helene produced two sold-out operas with Medusa Collective at Tête à Tête Opera Festival in 2020 and 2021. She is a producer on the Arts Council UK funded film-opera, The Styx which explores EMDR therapy and the Greek myth of Persephone, written by BFI award winning filmmaker and poet Katie Byford and composer Athanasia Kontou.
In the world of musical theatre, Helene is producing the UK premiere and original English adaptation of the hit 1928 German cabaret musical, 'Es Liegt in der Luft' by Mischa Spoliansky. Set to be premiered at Hope Mill Theatre in June, the musical is supported by The Spoliansky Trust and the Golsoncott Foundation.
Helene is a graduate of the Royal Northern College of Music. In her performance career, she specialises in new opera and has created roles in Folk Tales and The Language of Flowers by Charlotte Marlow (Tête à Tête), The Growth of Silk by William Hearne (Camden Fringe) and FiveStones by Eldad Diamont (Royal Northern College of Music). She also has a love of singing jazz and cabaret and regularly performs in and around London, most recently at Toulouse Lautrec Jazz Club and Old Fashioned Live.
Associate Producer – Pat Wilson
Pat is a web designer and fundraiser
A web designer and textile artist, Pat is well known in her hometown of Deal for her unique topical caricatures of royals and politicians as well as her charity fundraising.
She has appeared on tv and radio and in print many times where her quirky knits cause plenty of laughter….
A passionate fundraiser, Pat has been (literally when she participated in two annual banger car challenges to Rome and Monte Carlo) one of the driving forces behind many large scale community craft projects nationwide, raising nearly £40k in much needed funds for charities large and small over the past few years.
Currently working with the Worshipful Company of Wax Chandlers, she designed and participated in the creation of a sustainable bee-themed float in the 2021 Lord Mayor's Show to celebrate their 650 year anniversary.
She is also co-Producer on The Rotters Opera by Carole Hayman which is currently in development.