Book Tickets
Thu 7th July
at 7.30pm
BOX OFFICE 020 7684 0060
Lines are open Monday – Thursday 12pm – 5pm or book online.
If you have any queries, please email reception@hoxtonhall.co.uk and someone will get back to you as soon as possible.
Why 'The Hive'?
Women kill close to the home, or The Hive as you might call it.

Dr Ray Travers, Forensic Psychiatrist
The Hive challenges popular stereotypes about women killers and their pathology, presenting an opposite to sensational media fodder based on prurient and macabre interest. The intention of the work is to re- connect with the basic humanity of the protagonists – the people who've caused the suffering.
Please see below for videos of the performances, how the project developed, a synopsis and details of the creatives and producers. If you would like to contact us please email hiveopera@gmail.com
Videos
The Hive would like to thank Bill Bankes-Jones, Anna Gregg and everyone at Tête-à-Tête for their encouragement and support, and for mounting Act 1 at the Arcola and giving us space to mount Act 2 at RADA.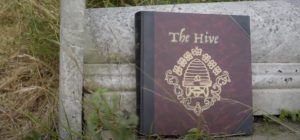 Performed as part of Tête-à-Tête: The Opera Festival 2020 at the Cockpit Theatre, London.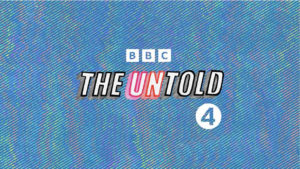 The Untold charts the long and often halting process of creating an Opera on a challenging subject from scratch
Performance held in the Warehouse Theatre at Liverpool Hope University Creative Campus, February 2020.
Act 1 takes place at a Forensic Psychiatry Conference on 'The Nature / Nurture of Evil'.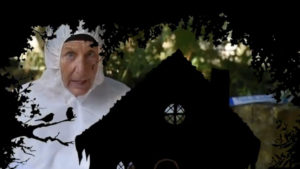 Act 2 takes place in a forest where some Grimm characters wander.
Carole Hayman spends time locked inside a secure mental health unit with forensic psychiatrist Dr Ray Travers.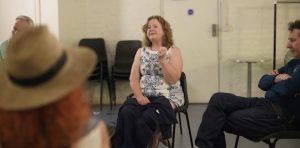 With writer Carole Hayman, composer Harvey Brough & lawyer Leo Goatley
Synopsis
Read a full synopsis of the Hive
Development
THE HIVE is an opera based in the world of forensic psychiatry.
Conceived and written by Carole Hayman, the libretto was inspired by research she had done as a Fellow at Kings College London – a study of women who commit serial murder. This became a 4-screen video installation of verbatim interviews with those intimately connected to killings. Funded by The Wellcome Trust the work was shown at Fabrica Gallery during the 2008 Brighton Festival.
Carole returned to the project a few years later with a workshop at Out of Joint Theatre Company. From that came The Hive libretto – the title from a forensic psychiatrist who said in an interview, 'Women kill close to the hive'.
Shortly afterwards, Carole enticed Harvey Brough, a musician and composer whose work she loved, to write the score. The Hive words and music aim to address some of human nature's darkest depths, yet move rather than horrify, while keeping us emotionally charged. Quite the challenge!
A workshop showing of Act 1 was seen at the Arcola Theatre's Grimeborn Festival in the summer of 2016. Funded by Tête-à-Tête and directed by Bill Bankes-Jones, it was very well received. With financial assistance from ACE, a draft of the second act was completed and a half hour extract directed by Susannah Waters was mounted in August 2017 at the Tête-à-Tête festival at RADA.
THE HIVE – Covid Cut (film and short live extract) was performed as part of Tête-à-Tête: The Opera Festival 2020 on September 17th at the Cockpit Theatre, Gateforth Street, London, NW8 8EH.